A LEVEL RESULTS 2022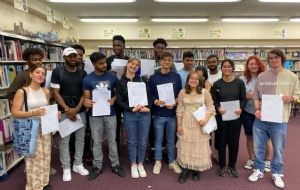 A LEVEL RESULTS 2022
Congratulations to our students who received their A Level examinations results today. We are extremely proud of them all and wish them every success in the future. The A Level results were outstanding with over 70% of grades awarded at A*- B and over 40% of them at A-A*.
Over 95% of our students have been successful in gaining places at universities of their choice. The majority of students will be attending Russell Group and other top universities including Oxford, Cambridge, Imperial, LSE, Durham, Manchester, Bath, Lancaster, Liverpool, York, Leeds, Warwick, Sheffield, Exeter, Bristol, Nottingham, King's College, Loughborough and Southampton.
They will be studying a range of courses including Medicine, Veterinary Science, PPE, Pharmacology, Law, Engineering, Physics, Pharmacy, Computer Science, Accounting and Finance, Politics, Media, Music, Geology, Psychology, Sociology, Criminology, Journalism, Film and Television, Nursing, Architecture, English, History and Classical Civilisation.